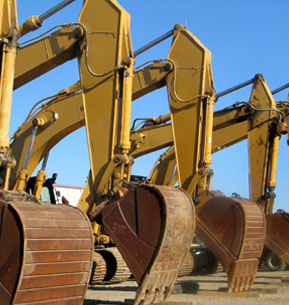 Services
Leased Equipment Inspection Services

Douglas-Guardian provides a valuable service to banks, leasing companies and other financial institutions in assuring them that their equipment is on-site at the lessee's location. This service can be utilized on all types of equipment and throughout the life span of a lease. At every level, our accurate, on-site inspection of your investment helps you reduce risk by avoiding costly errors.
Pre-funding Lease Inspection Services
Timely service can make an important difference when you need to verify inventory existence and condition before the release of funds. We understand the time sensitive nature of this function, and complete all inspections as expeditiously as possible. In fact, inspection results are typically provided back to our customer within a few hours of completion. Our experienced field staff provides coverage throughout North America – delivering exceptional value while ensuring the highest standards of quality and accuracy in our reports.
Site Inspections
Does your lessee or borrower exist, or is it simply a mail drop in a local post office? By utilizing the services of Douglas-Guardian, we can provide you with a physical inspection of your customer's facilities providing you with proof on whether your potential customer is real or not. Douglas-Guardian specialists will visit your customer's location and ensure that everything is as it is stated to be – providing you with a full a written report, together with photos, of our findings. 
Collection Inspections
Have your payments slowed or stopped? Douglas-Guardian's collection inspections are designed to put financial institutions in direct contact with their lessees or borrowers. With extensive coverage throughout the United States and Canada, one of our field service employees will visit your borrower's location, verify the equipment, indicate if it is in working order, and hand deliver a letter requesting them to contact you. Should you request it, we can also call from the borrower's site directly to you, putting you on the phone with the appropriate representative.